---
Dear members,
We are excited to present a specially curated grower champagne dinner paired with the modern Japanese cuisine of Akira Back. We have collaborated with Wine Journey to present to our members some of the most acclaimed and exciting Champagne grower producers of today.
Grower-producer Champagnes–commonly known as Grower Champagnes–are Champagnes that are made by the estate that actually grows the grapes. Grower Champagnes make up just a small segment of all Champagnes produced with the majority of Champagne is still made by négociant houses. How does one tell that a Champagne is a grower-producer's? By the initials on the bottom of the label. The initials "RM" on the label indicates that this is one of the 2,000+ growers who make their own Champagnes under their own labels and sell it themselves.
Champagne is generally produced from three main grapes, Chardonnay, Pinot Noir and Pinot Meunier. During the dinner, Champagnes will be served in different flights featuring a single varietal, to allow the taster to better appreciate the characteristics of each grape, a truly educational experience.
Chardonnay flight:
Champagne Agrapart Terroirs Bdb NV, Grand Cru
· 20- to 40-year-old vines in the villages of Avize, Cramant, Oger and Oiry. 50% 2014 & 50% 2013
Agrapart is a coveted Grower with a three-star rating in La Revue du vin de France's Le guide des meilleurs vins de France -the highest possible rating

Dhondt-Grellet Les Terres Fines Terroir de Cuis Blanc de Blancs Extra Brut, Premier Cru
· Base vintage 2013 (70%) + Reserve wine from 1986 (30%) (solera)
· At the recent Trophées Champenois à Épernay, Adrien Dhondt from Champagne Dhondt-Grellet won the Vigneron de L'Année (Wine maker of the year)
Pinot Noir Flight
Charles Dufour Nature Oeil de Perdrix Le Corroy LR15
100% Pinot noir. Direct pressing, only first presses
"selosse of the aube " the champagnist

Cedric Bouchard Cote de Val Villaine Blanc de Noirs , v16
100% Pinot Noir, 0% Dosage, stainless steel
'Cédric Bouchard has quickly established himself as one of the brightest rising stars in all of Champagne'. Peter Liem, Champagne Guide

Pinot Meunier flight
Emmanuel Brochet Le Haut Meunier 2011
100% Meunier- has almost achieved unicorn status with its rarity and quality
Vines planted 1962, Silt/Clay Limestone, non- filtered and only 1300 bottles with 2g/L dosage

Rose / Still red flight
Coessens Rose Brut NV
'We create this rosé de saignée champagne only in years when the grapes reach perfect phenolic maturity and are in perfect condition. '

Vinification is carried out in the traditional way which involves crushing the grapes by foot.

The grape skins can then release all their aromas, tannins and colour into the juice.
Oliver Horiot Coteaux Champenois Rouge "en Barmont" 2015
100% pinot noir. This is a still red wine made in Champagne
The Rouge expresses with red fruited bouquet, unmistakable Pinot from 'old world', strung on a mineral core to a salivating finish.

Our dinner will be held at the innovative Akira Back restaurant at the JW Marriott. Celebrity chef Akira Back was born in Korea and raised in Aspen, Colorado. Chef Back brings a sense of adventure and boundless creativity to his culinary creations. From extreme sports athlete to award-winning chef, Akira Back's journey to culinary success has been anything but dull. For over 24 years, Chef Back has enticed the culinary world with his bold interpretations of Asian fare with American influence. Using only the high-quality ingredients and creating a culture of world-class service in a welcoming environment, Chef Back's restaurants embody classic cuisine continuously featuring innovative dishes that use the finest ingredients .
Please sign up early for this special evening as spaces are very limited. As usual, Members will have priority for booking places in the first 48 hours.
Venue : Akira Back
30 Beach Rd, Level B1M, JW Marriott Hotel Singapore

Date : Saturday, 2nd March 2019
Time :
Aperitif : 7:30pm
Dinner : 8:00pm
Dress : Casual / Smart
Sincerely
Sharon Sng, President
DINNER MENU
_______________________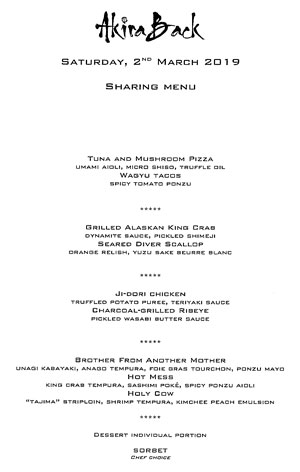 _______________________